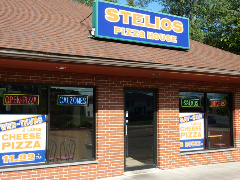 Franchising Opportunities
If you've ever dreamed of being your own boss, then join us in bringing delicious food to wonderful people in your neighborhood.

Franchising is the best opportunity of owning your own business. By investing in an established brand, your success rate is higher than starting from scratch. Some of the lowest costs of any franchise: Initial fee $5000; Royalty fees 4% and 1%-3% advertising fees; Startup costs from 180,600 to 297,000; Location search, layout planning and design; Full training and support from the home base.

We at Stelios Pizza House welcome you to further help us achieve our goal of bringing great pizza at the best prices to folks from all over the world.

Please use the form below to contact us for more information on our franchising opportunities.